Shod arbors - the review of all advantages of a design. Accommodation options on the site + 140 photos.
The modern design of the suburban area is a creative task, which includes not only garden work, but also the organization of a comfortable and attractive outwardly space for relaxation. Forged arbors for a summer residence look great - they have an expensive and sophisticated look, besides they are not just a useless decor element on the site, but will really serve for relaxation - and will serve for a long time, because they are created from durable materials: steel, iron or copper .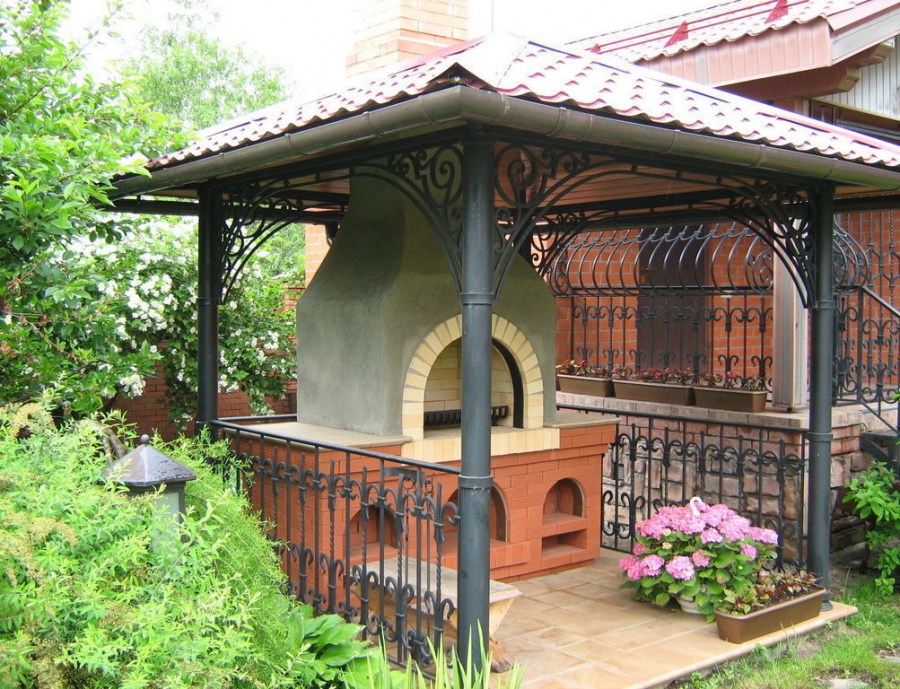 Advantages and disadvantages of forged arbors
If we look at various photos of forged arbors, we will see: they vary significantly in size, design, and installation methods on the surface. Their main advantage is immediately noticeable: it is easy to find an option that is suitable for any available surface - concrete, gravel, lawn grass.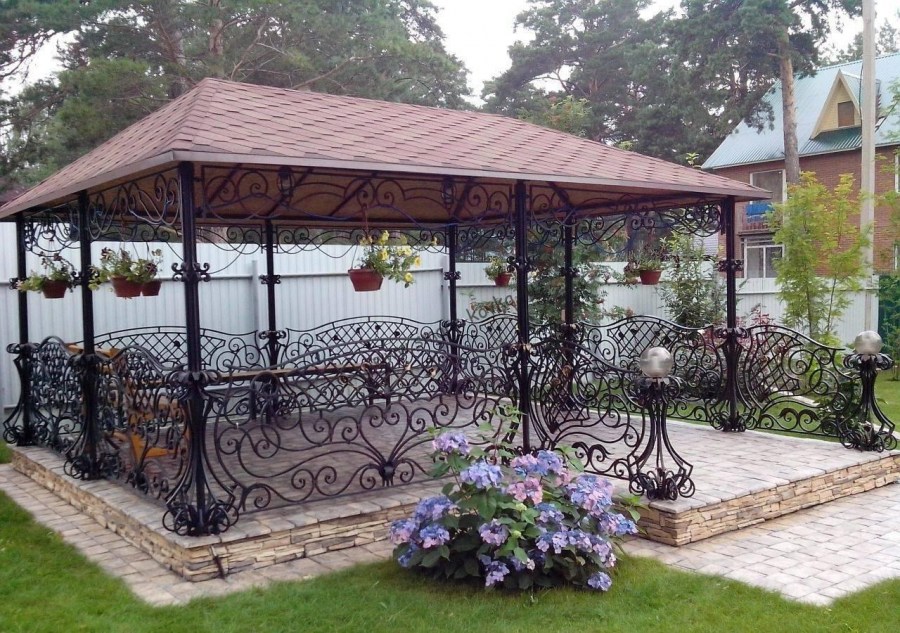 Some require a concrete foundation, others dig into the ground or, most simply, mount on top of it. Other benefits:
They fit perfectly into any landscape and organically look both among garden vegetation and near other buildings, do not spoil, but rather decorate the landscape.
Perfectly combined with other materials - wood, glass, stone, plastic, which allows you to create original versions of the design.
Easy to care for: painting is all the repairs they need. In addition, you can at any time change the appearance of the gazebo - just paint it in a different color. They are painted with alkyd paints, and there is complete scope for imagination: for example, you can paint a metal structure in a color that imitates platinum, bronze, gilding.
Painting also protects the structure from corrosion. In industrial conditions, the metal is painted with powder paint, which is considered the most durable. But you will be able to cope with the painting yourself - it is better to use "hammer" paints, which can be applied without a primer even on rusted elements.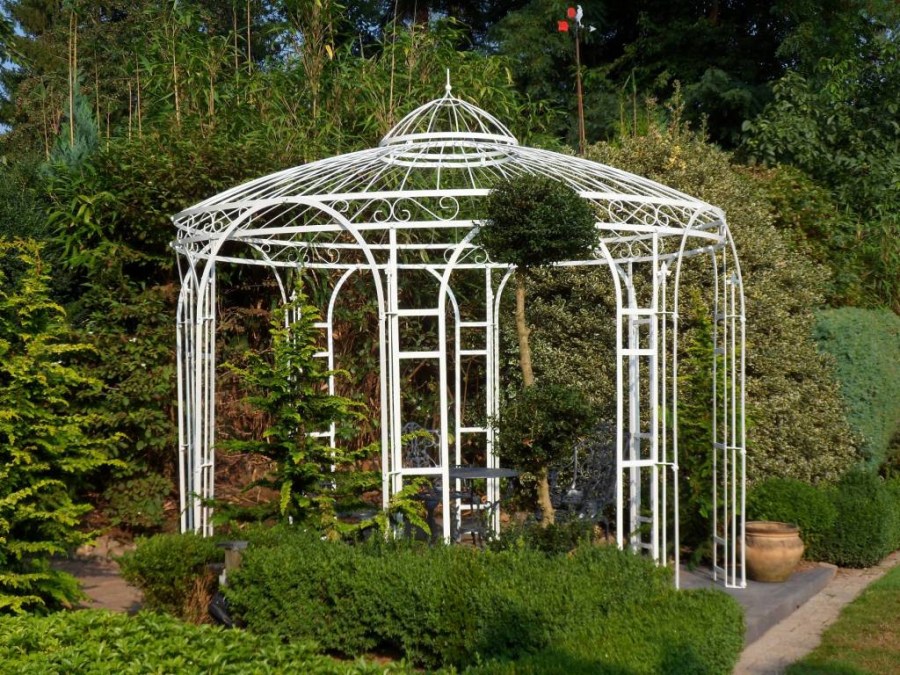 Depending on the size, the gazebo can serve both for individual and family holidays, even a whole company of your friends will fit in a large one.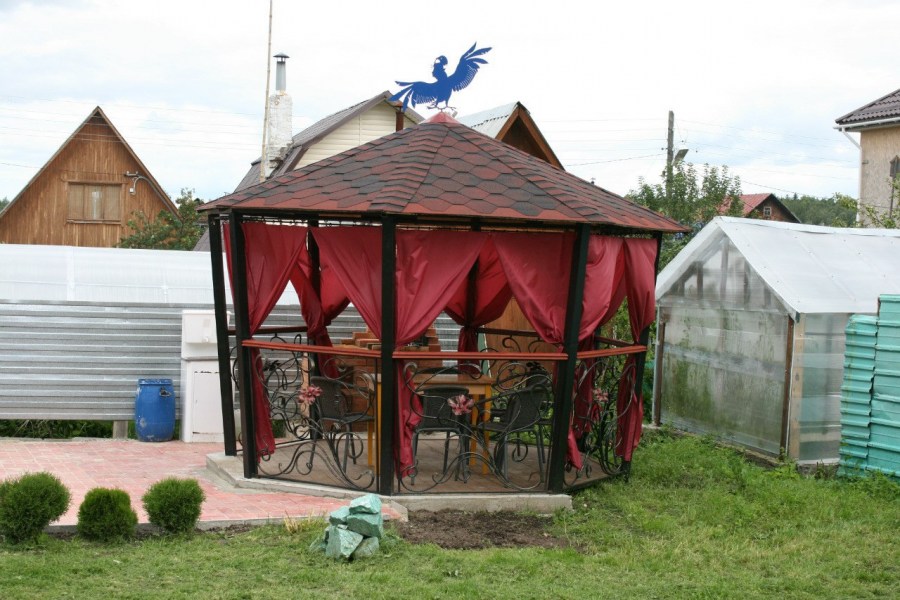 If you like food cooked on an open fire, you can equip a gazebo with barbecue, barbecue or even a fireplace - as a rule, these are large-sized structures, covered, sometimes with side glazing, which allows you to operate them all year round, real holiday houses. Unlike wooden counterparts, they are not fire hazardous.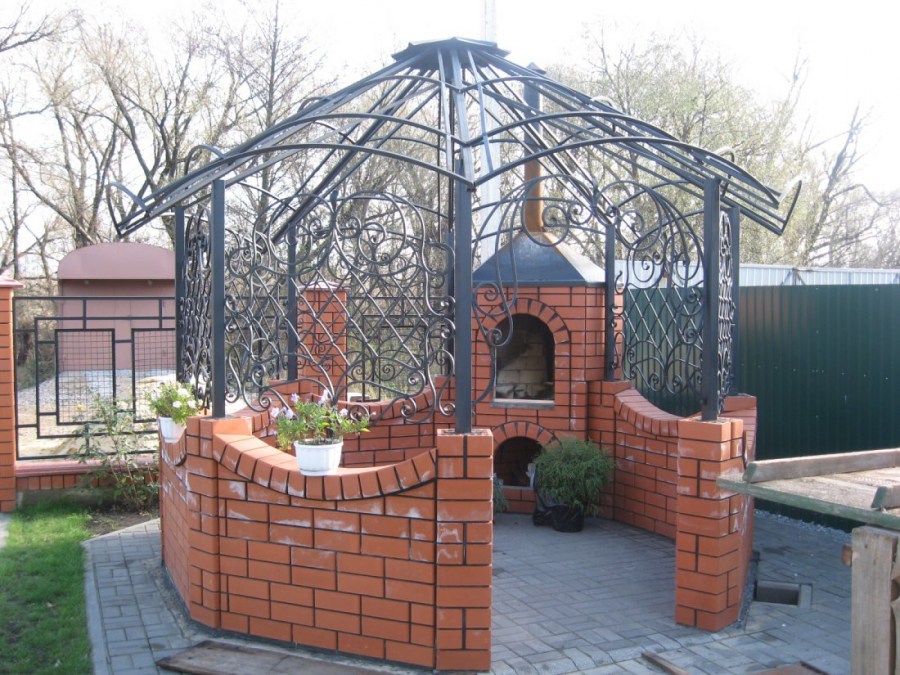 You can choose a product of any price category - there are quite budget options with forged elements, but welded from fittings.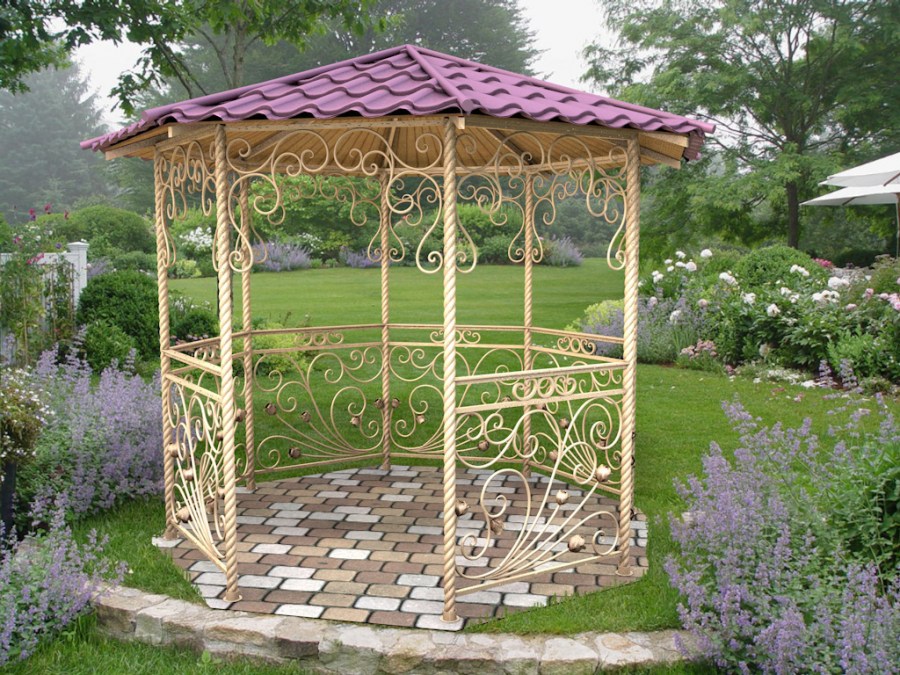 Beautiful arbors perfectly "work" as a backdrop for holidays and family celebrations, such as weddings, anniversaries, children's birthdays. Here their reliability plays an important role: even if the party goes into a stormy stage, it is unlikely to damage the metal structure! Also, a nice structure can be used for spectacular photo shoots.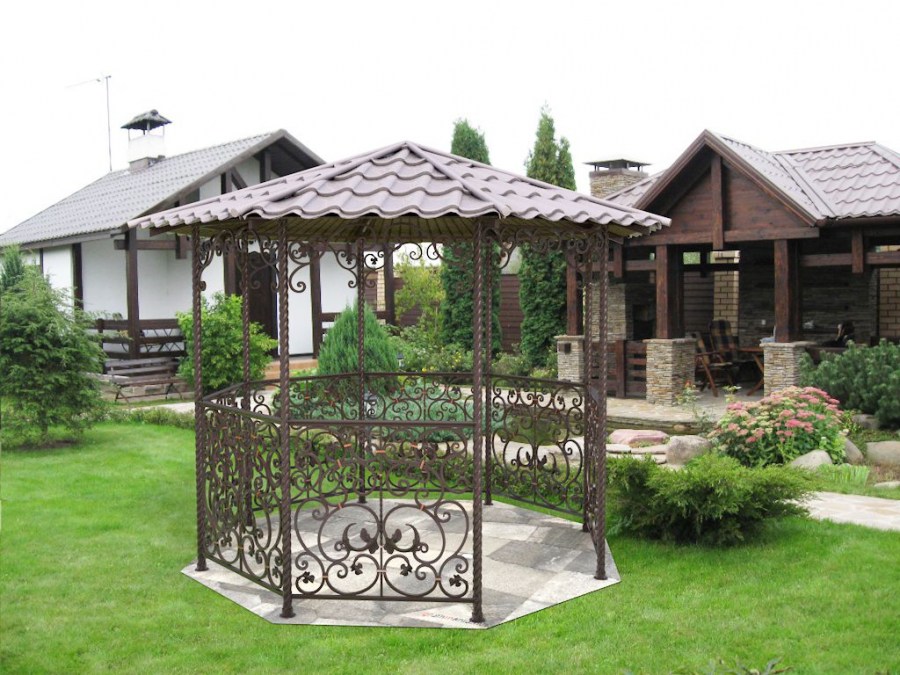 Forged gazebos have much fewer drawbacks than advantages: firstly, they rust, so you need to take into account climatic conditions and protect the thing from corrosion by painting, and secondly, they can get very hot in the heat - they are better set in the shade of trees, houses or other buildings.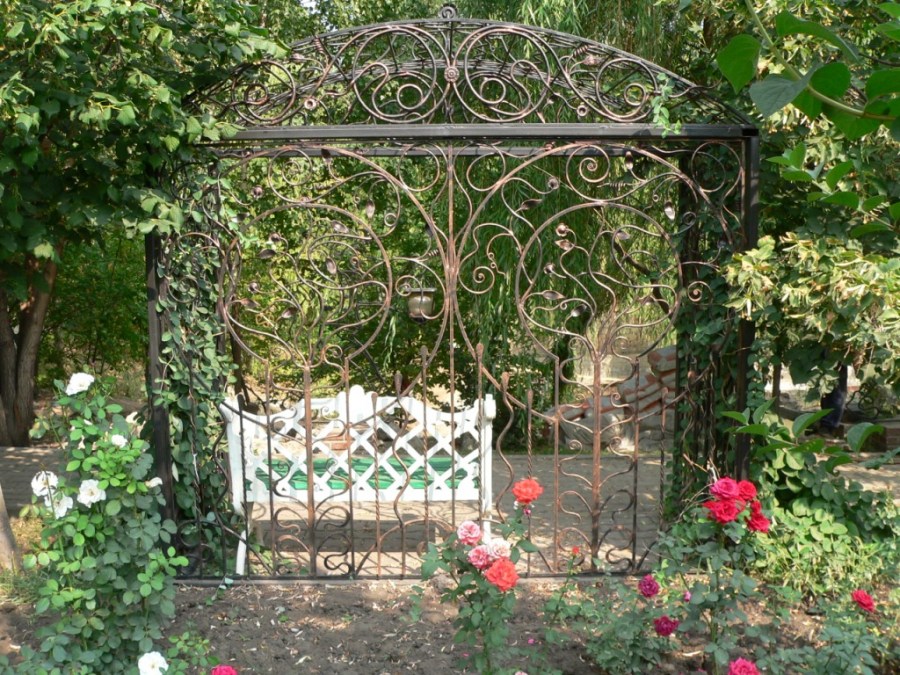 Beauty, unfortunately, requires sacrifice - the openwork openwork construction looks very airy, does not visually clutter up the space, but the absence of "solid" walls makes it impossible to use it in rainy and windy weather. If you want to use it in any weather, you will have to install a more capital construction with glazing.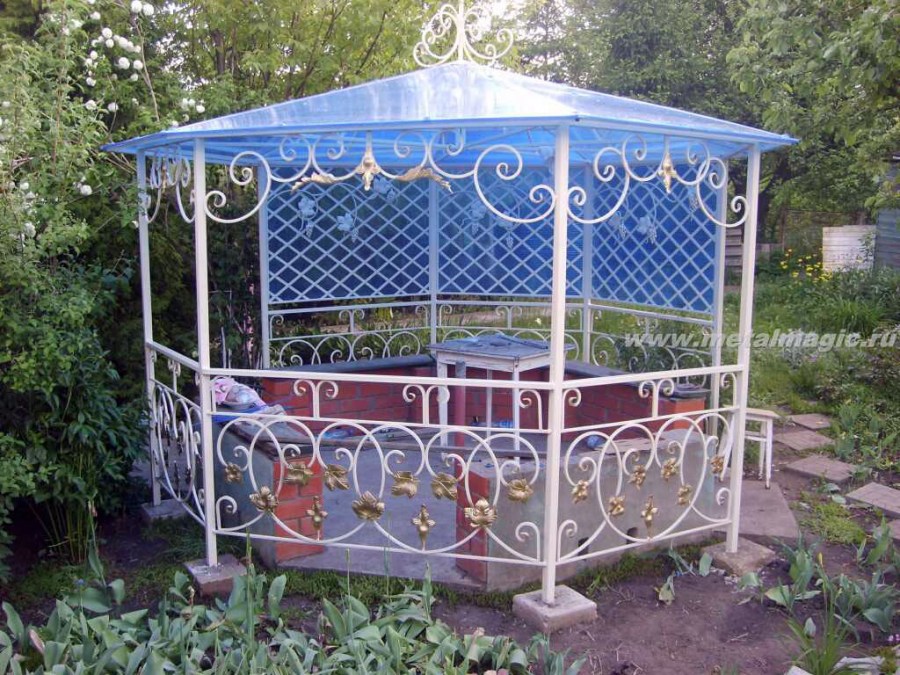 Which gazebo to choose?
There are several types of modern gazebos:
Altanka garden gazebos, always installed on the foundation;
Belvedere - open structures that are installed on a hill;
pergolas - with trellised walls that can be decorated with climbing plants. It is better to use perennials, such as bougainvillea, actinidia nosy, morning glory, campsis, unpretentious girl's grapes;
rotundas are round in shape, with a domed roof, usually on a foundation.
Arbours with an arch look very elegantly, but at the same time "welcoming" - an arch can decorate a product of any kind. In addition, arbors differ in the method of production: there are products of cold and hot forging. What does this mean?
Cold forging is metalworking at a low temperature. For her, as a rule, iron and steel of soft grades are used. In fact, this is the process of cutting blanks (otherwise it is called simply "stamping").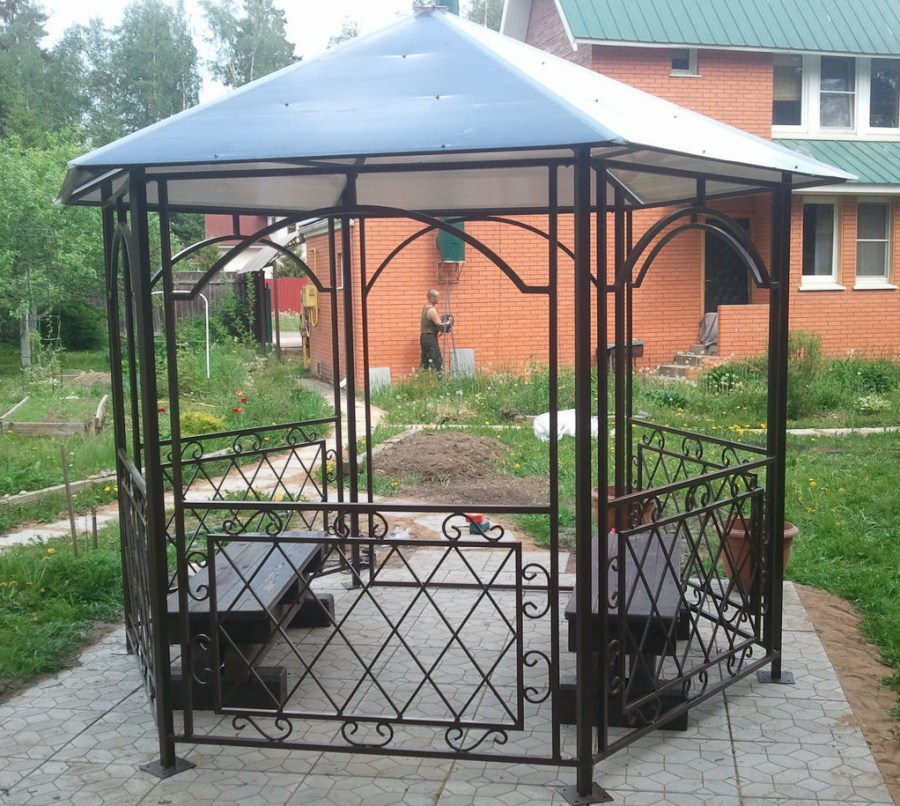 Finished fragments of the structure are assembled into a single unit by welding. Such a gazebo will cost much less than a "hot" one, but its appearance will be, frankly, not exclusive.
In general, the cost of a product directly depends on the manual labor invested in it: truly unique structural elements are not made by machine tools.
Professional masters are able to create real works of art: the output is intricate, "openwork" and "lace" creations that look light and airy - when you look at them, it's hard to believe that this is a very durable metal structure!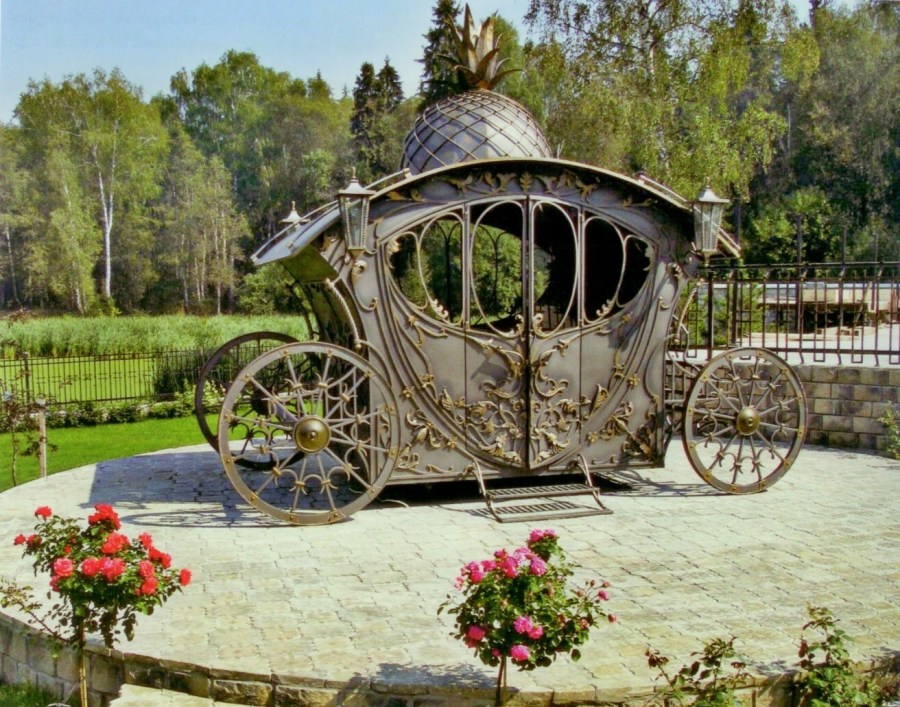 As a rule, the masters already have a catalog of ready-made gazebos from which you can choose the one you like best. If not one is not satisfied and you want a real exclusive - you should turn to the services of a professional designer who will create a sketch taking into account all the wishes of the customer.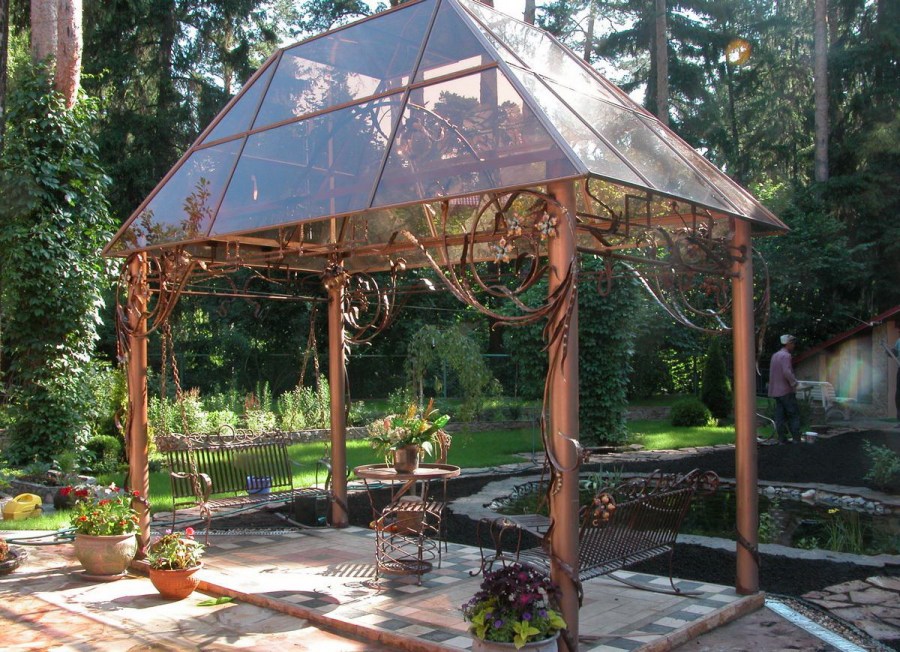 Economy option - do-it-yourself arbor
If ordering a metal gazebo - finished or exclusive - hits the budget too seriously, you can order not a whole design, but a few nice forged elements - they can decorate the budget option, which can be done independently if you can work with welding.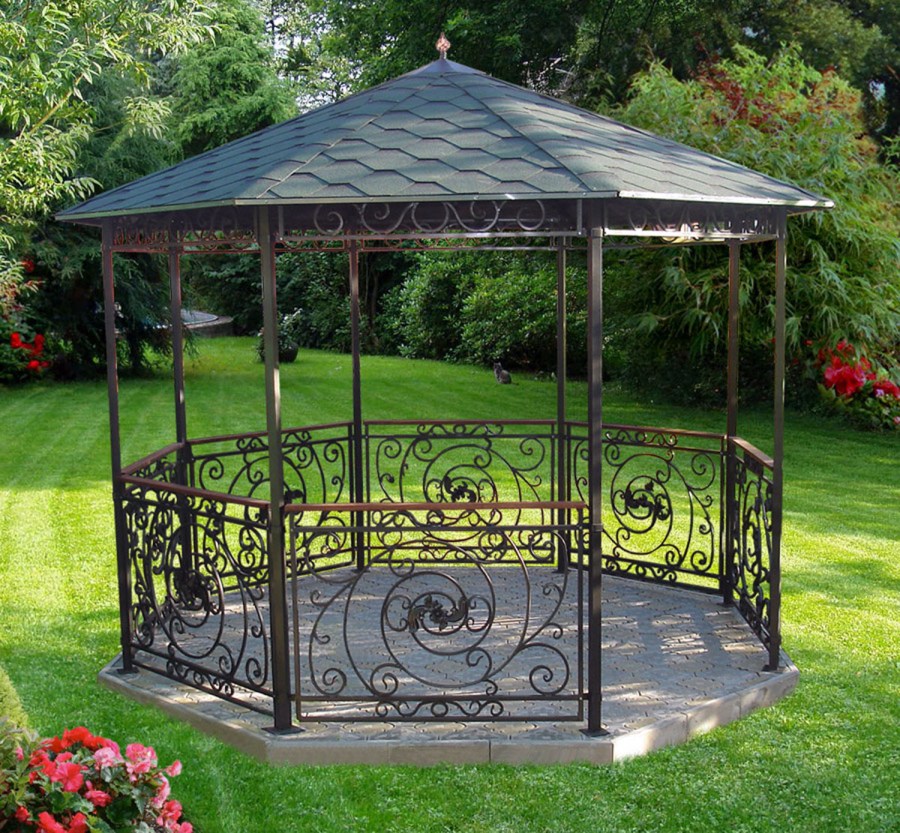 Saving on developing a project for a future building is now very simple: you can find a finished drawing with dimensions on the Internet (or, taking it as a basis, calculate the dimensions yourself). The most reasonable and uncomplicated option is to make the frame from profile pipes. It is advisable to take pipes of rectangular or square section, with sufficiently thick walls (a thickness of at least 2 mm is recommended).
Why is cross section important? The finished design will look neater and more elegant than that created from a channel or pipes with a circular cross section.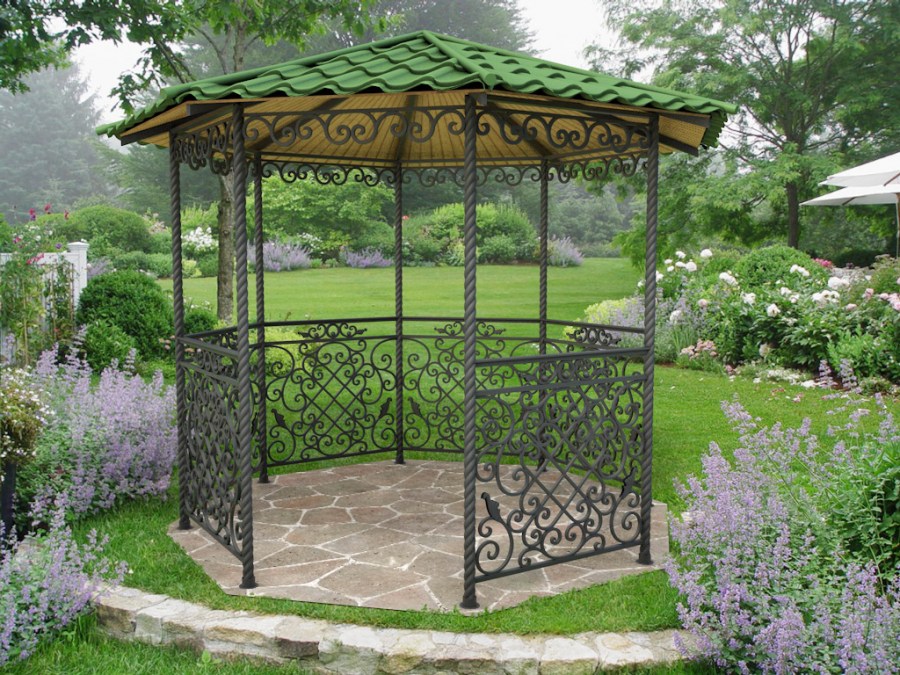 For the roof, you can use boards or a galvanized profile. If you want your garden house not to look heavy, you should consider using transparent or translucent materials for the roof - for example, polycarbonate. The metal corner is suitable for various partitions.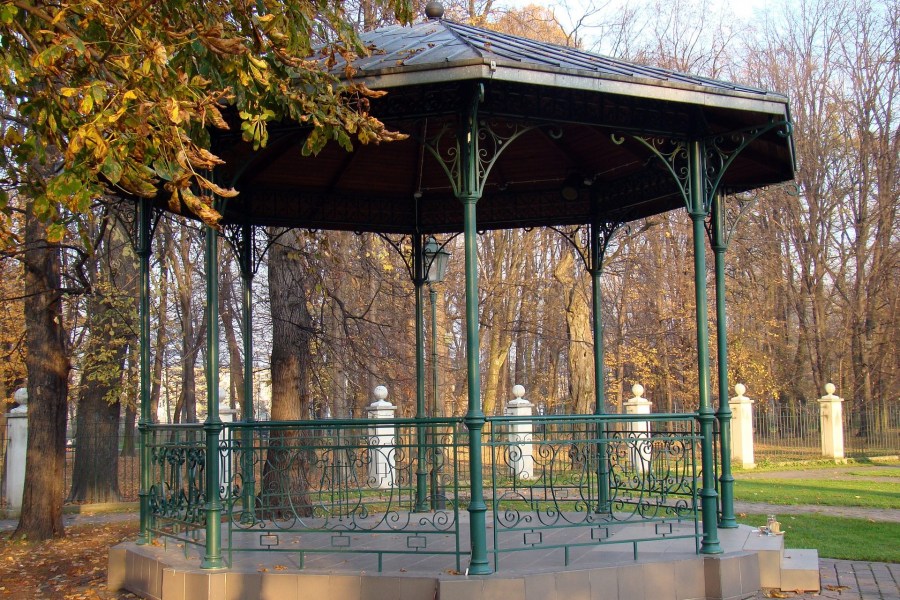 Forged elements are welded - with them the design will look more interesting. The cheapest option for flooring is wooden. Boards should be treated with preparations that prevent decay. A more expensive and time-consuming, but also more beautiful, durable and easy-to-care option is a tiled floor.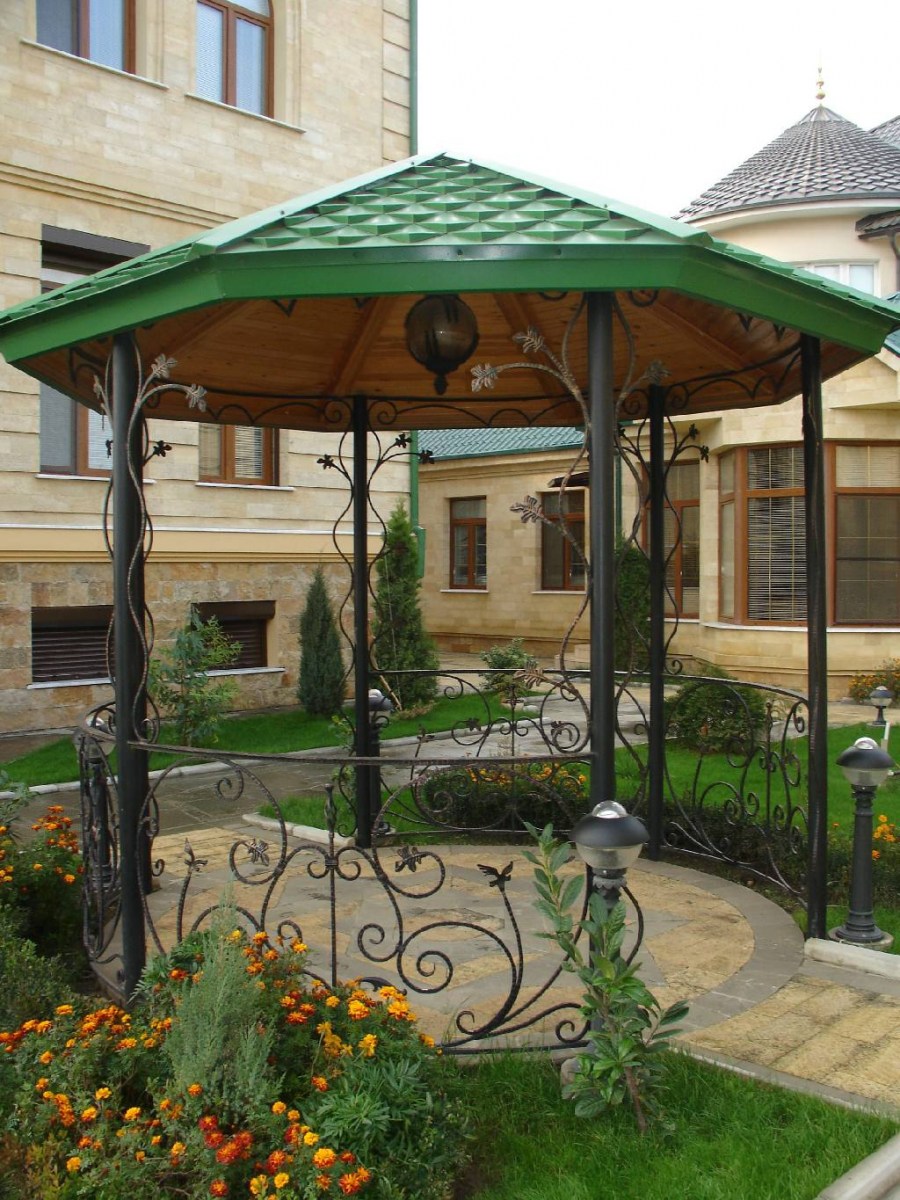 To the finished gazebo you need to attach the ebbs. Do not forget about painting.Then you can already organize the space in and around it to your liking: install benches, a table, a barbecue or a barbecue (you can independently build it from bricks or purchase a factory one that is suitable in size), lay out or pour a path from gravel, think about a possible floral design.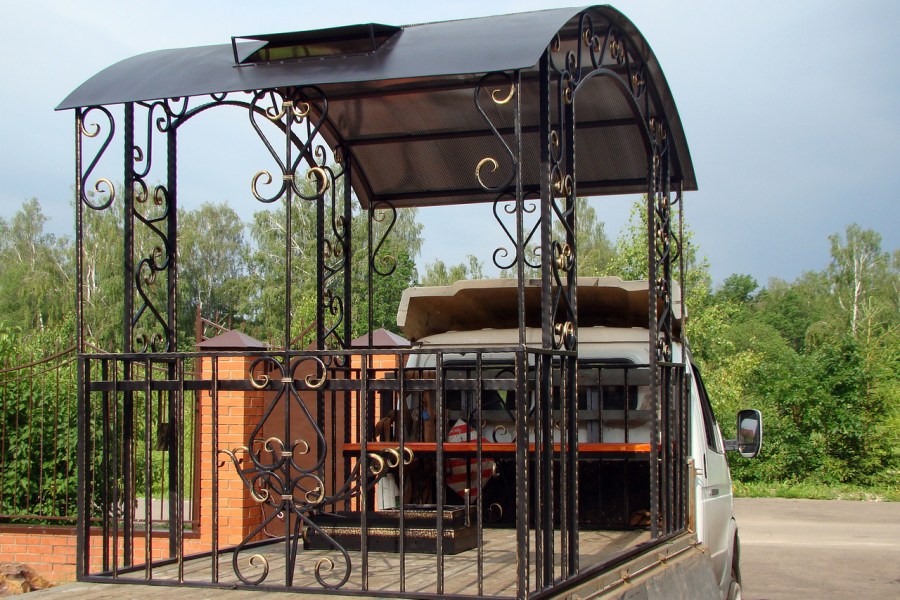 Photo forged arbors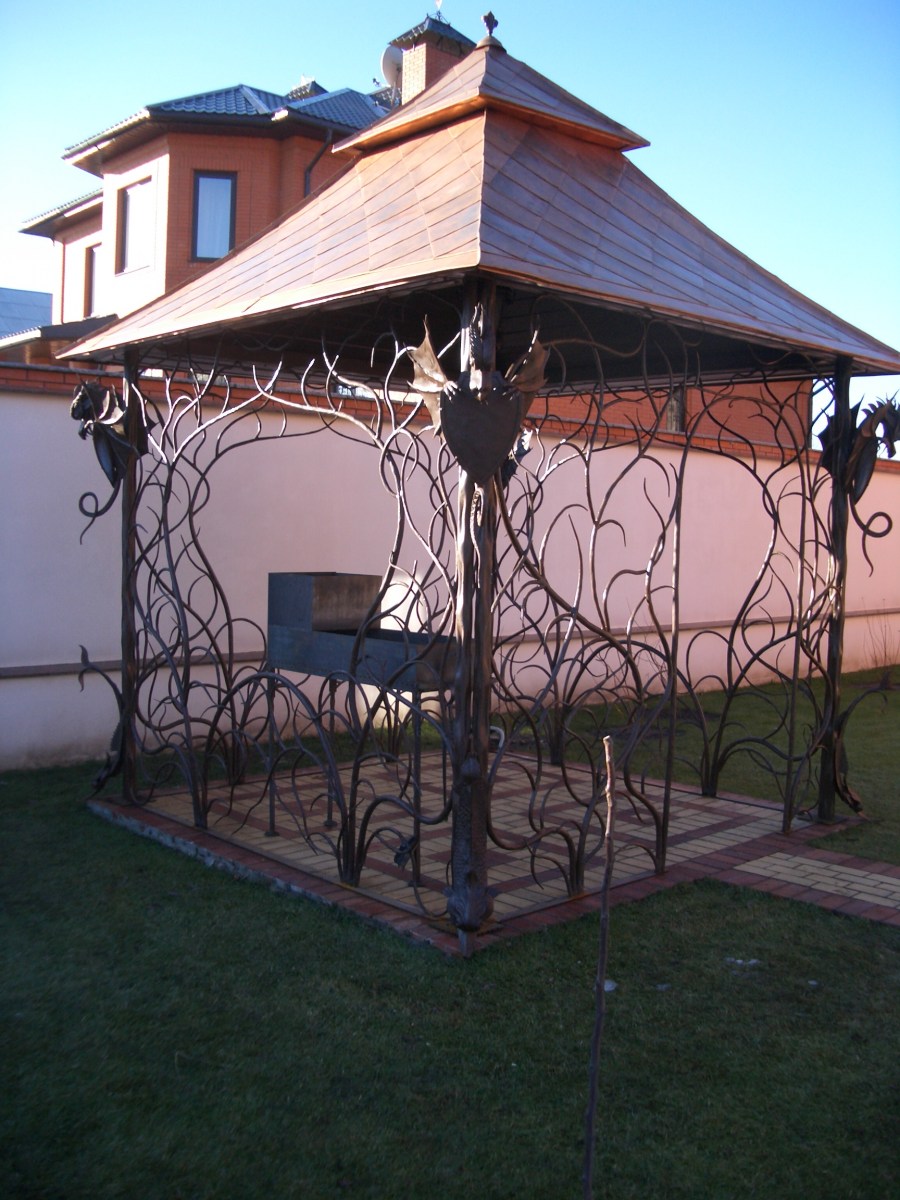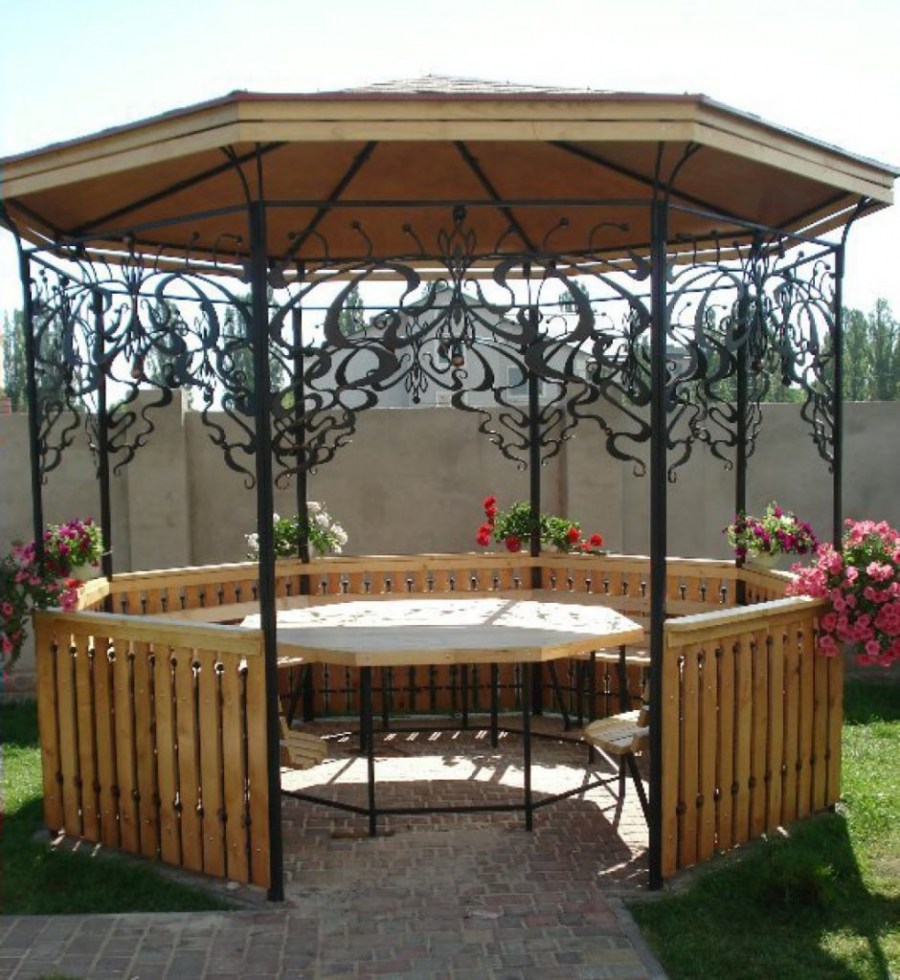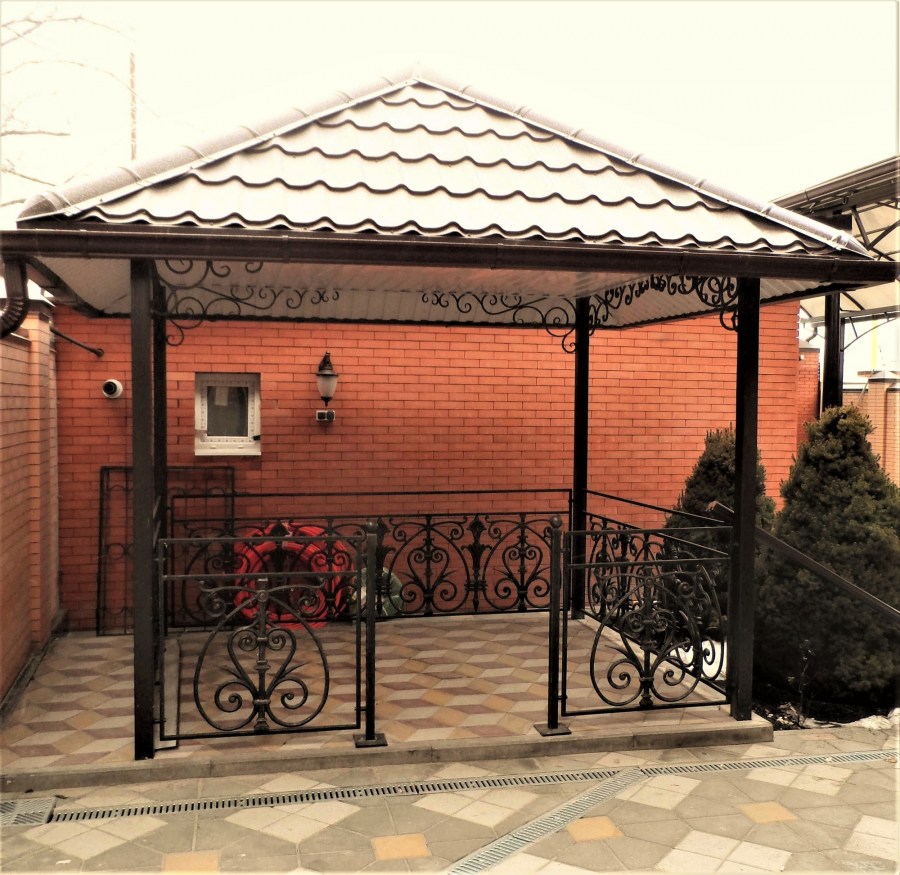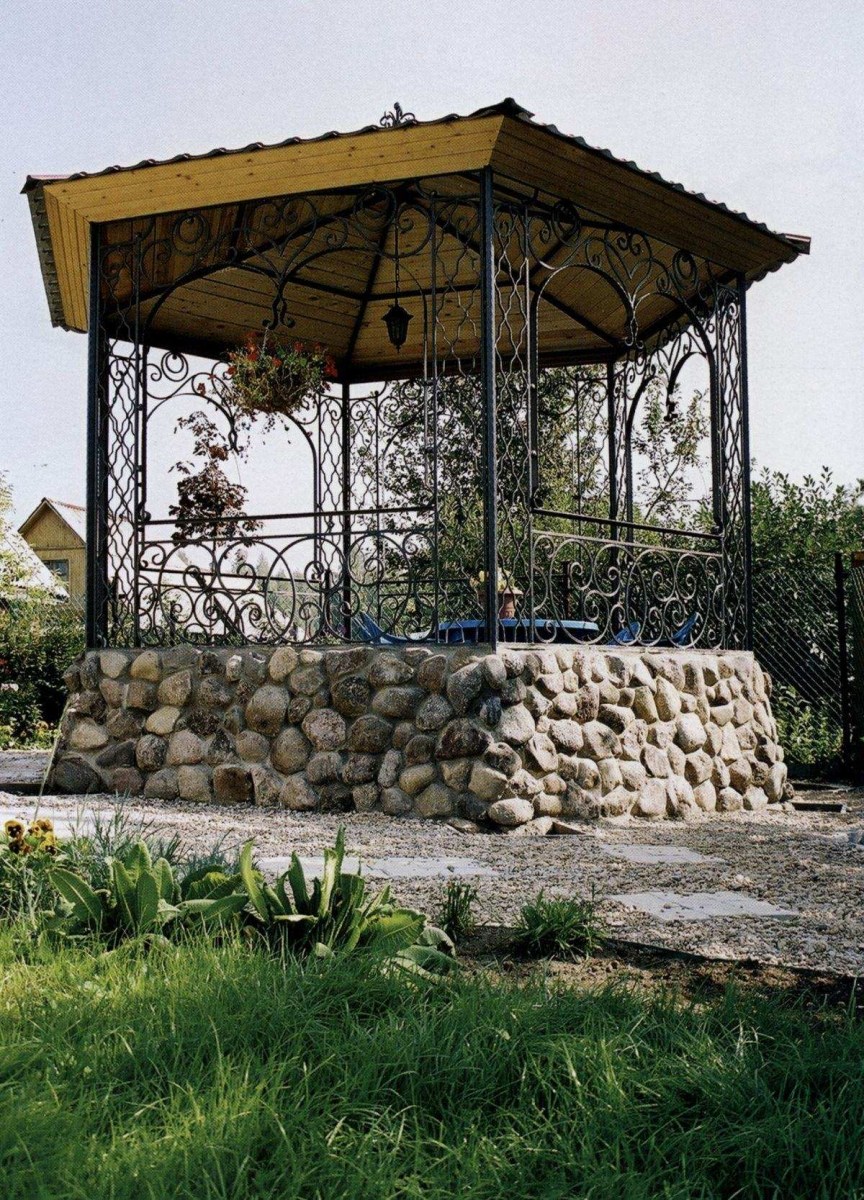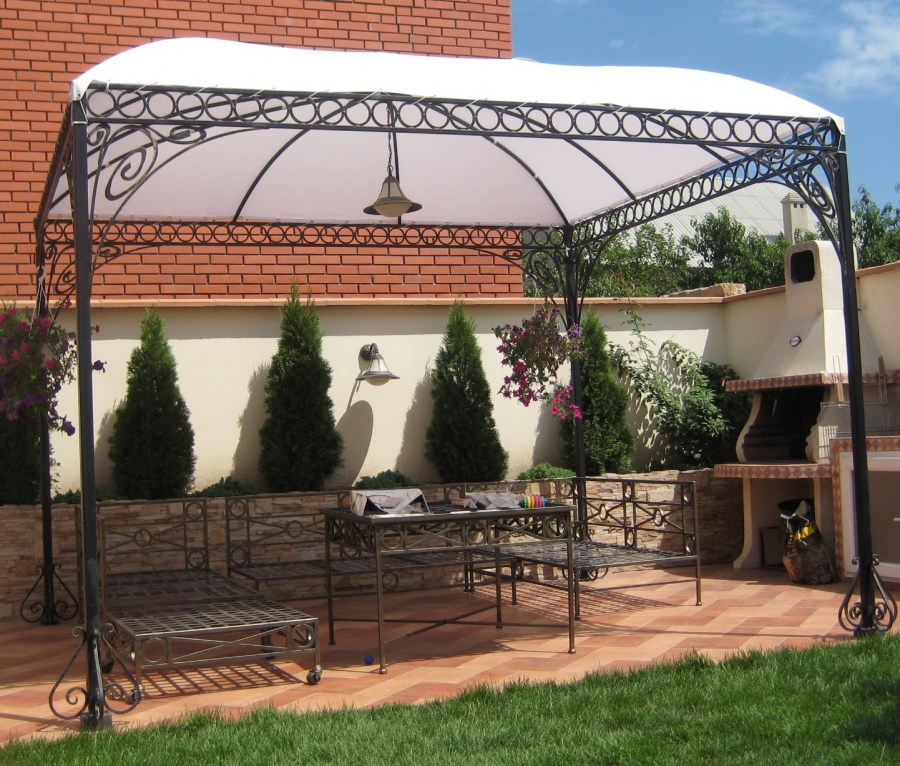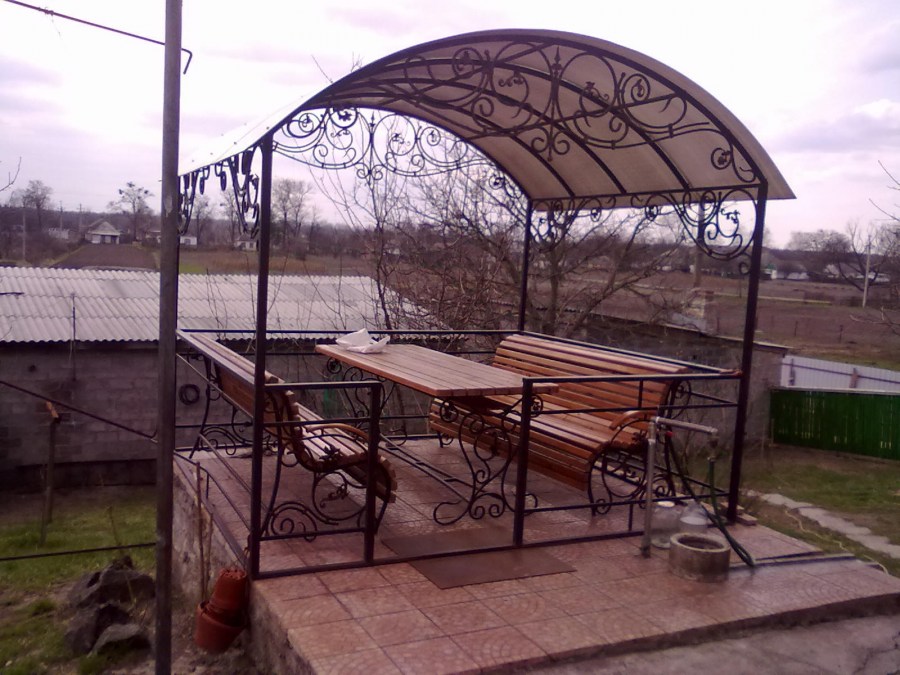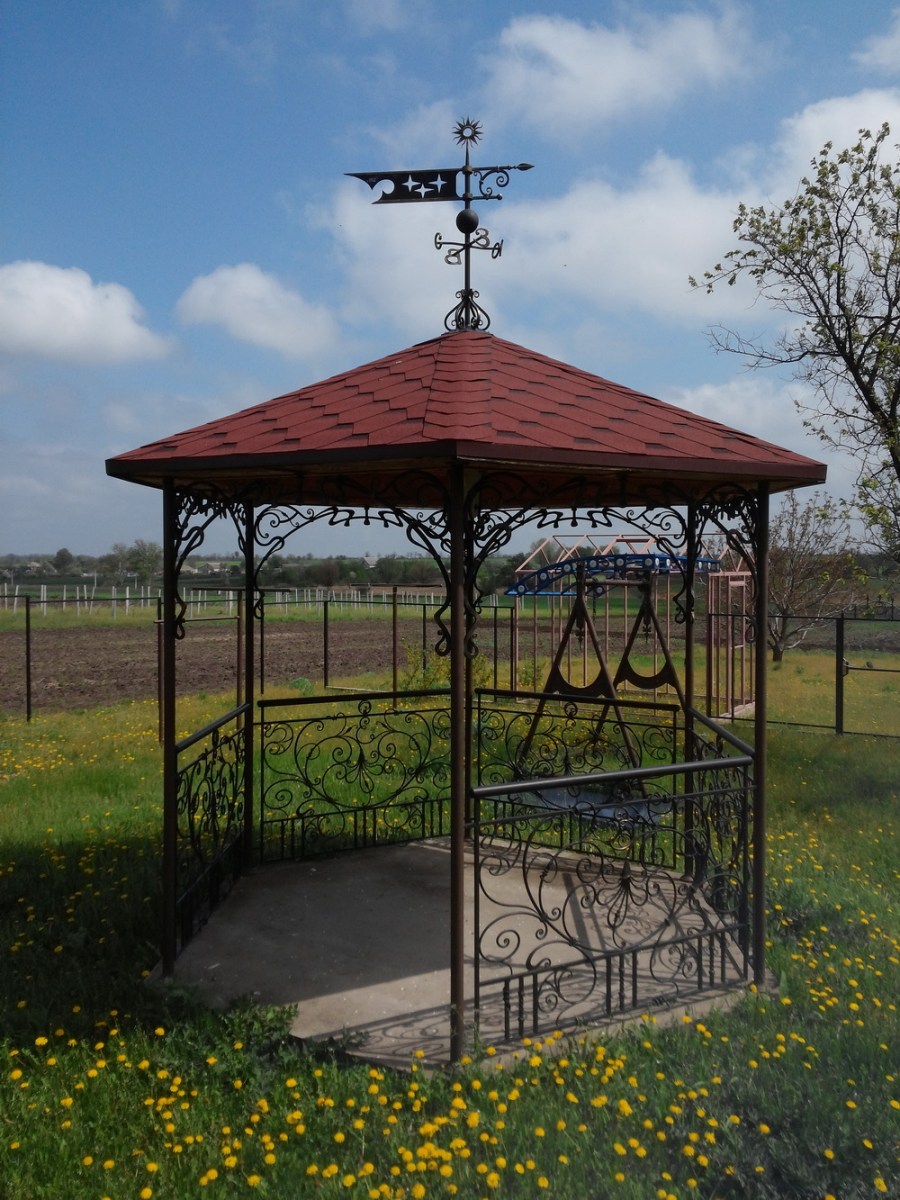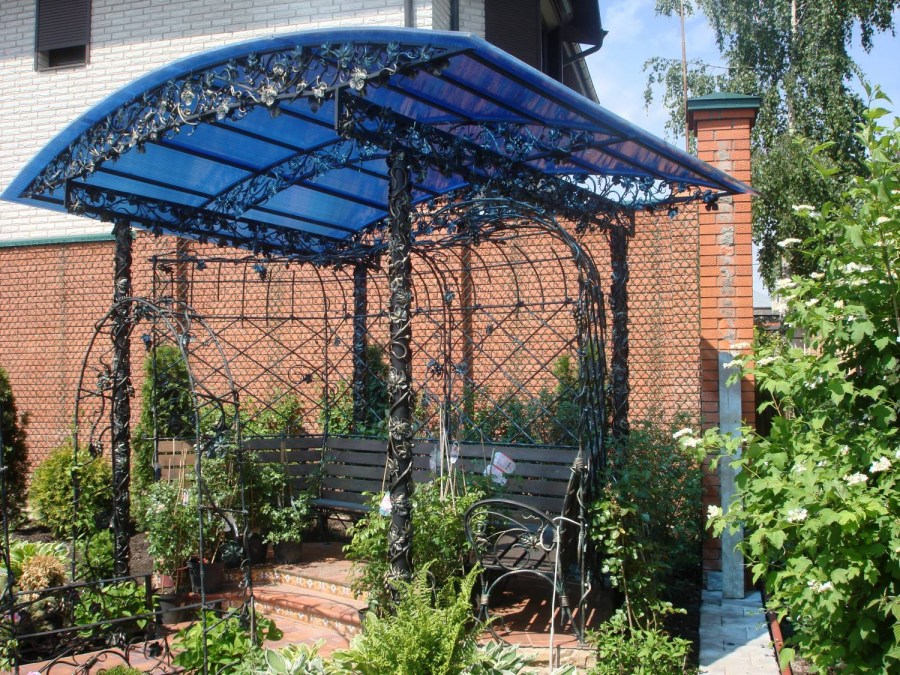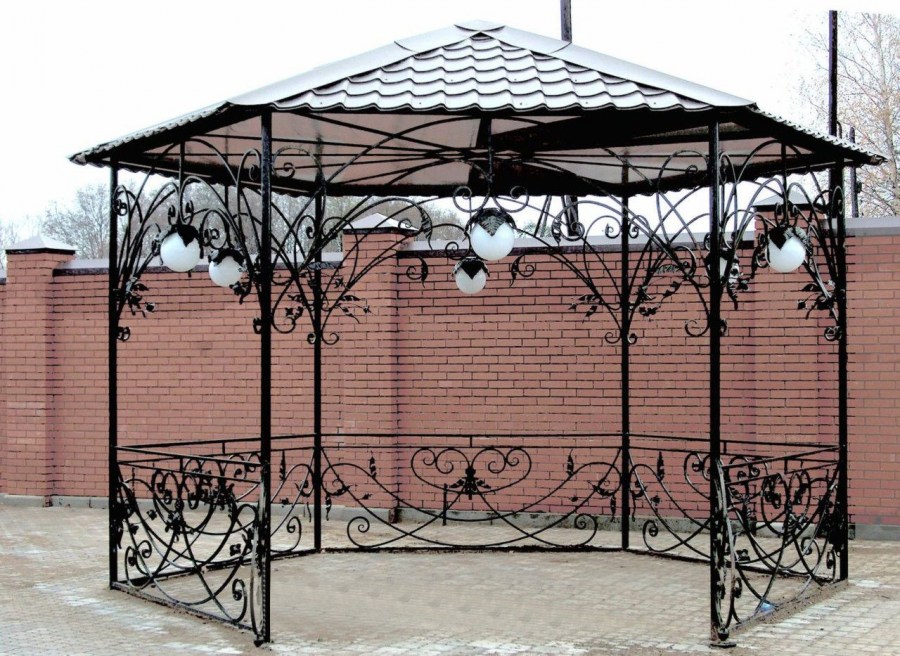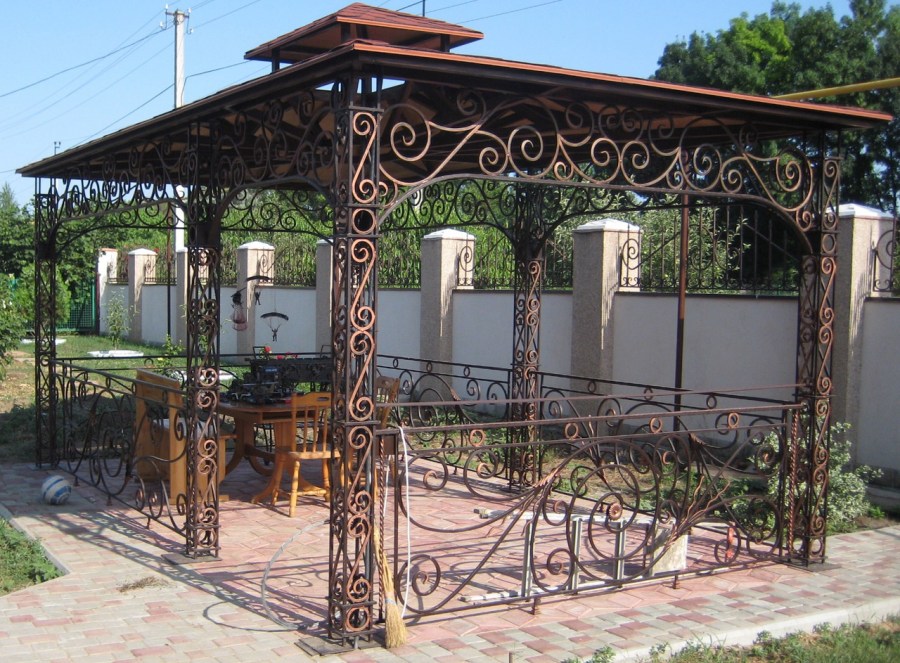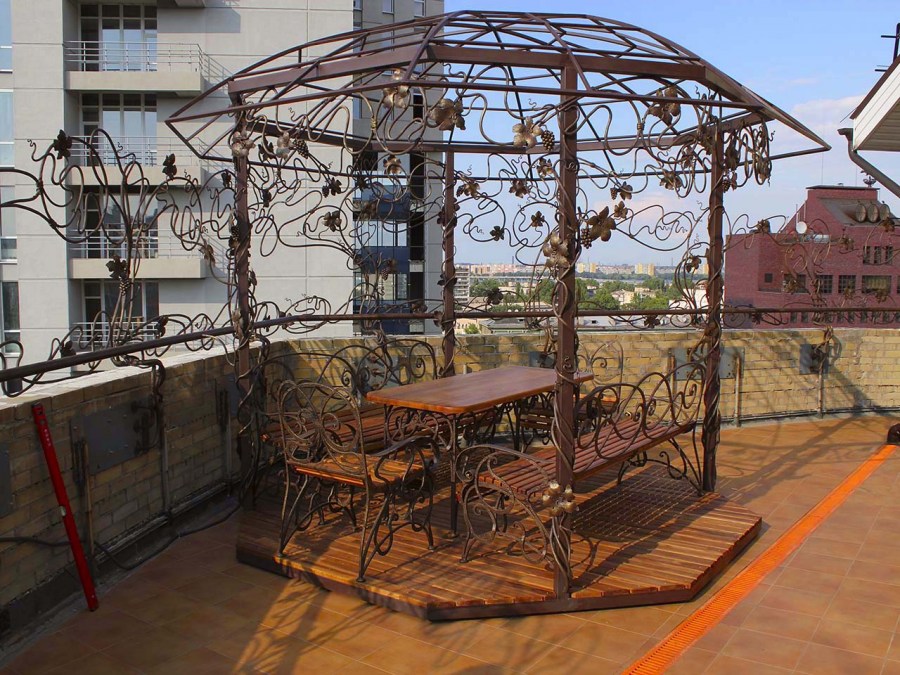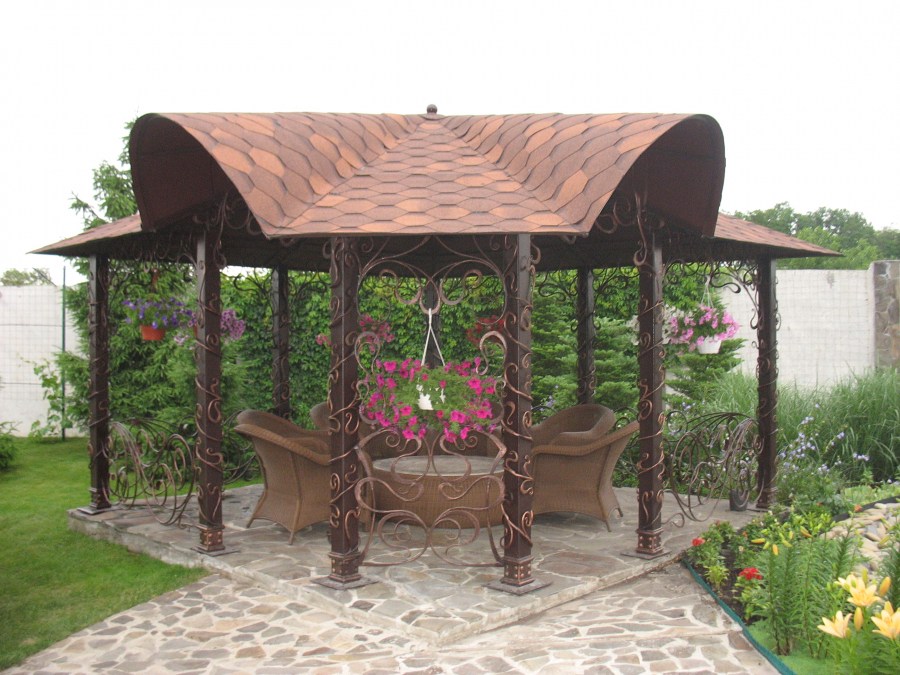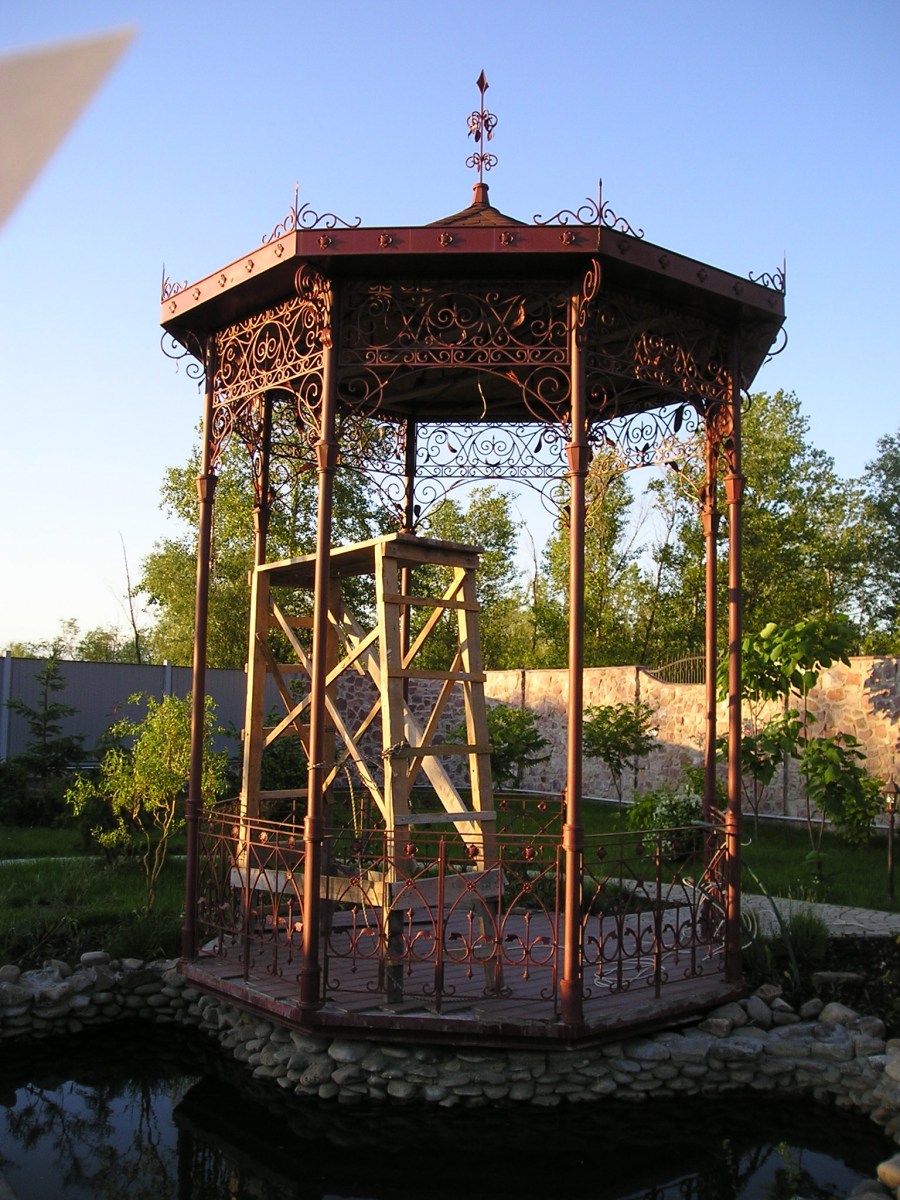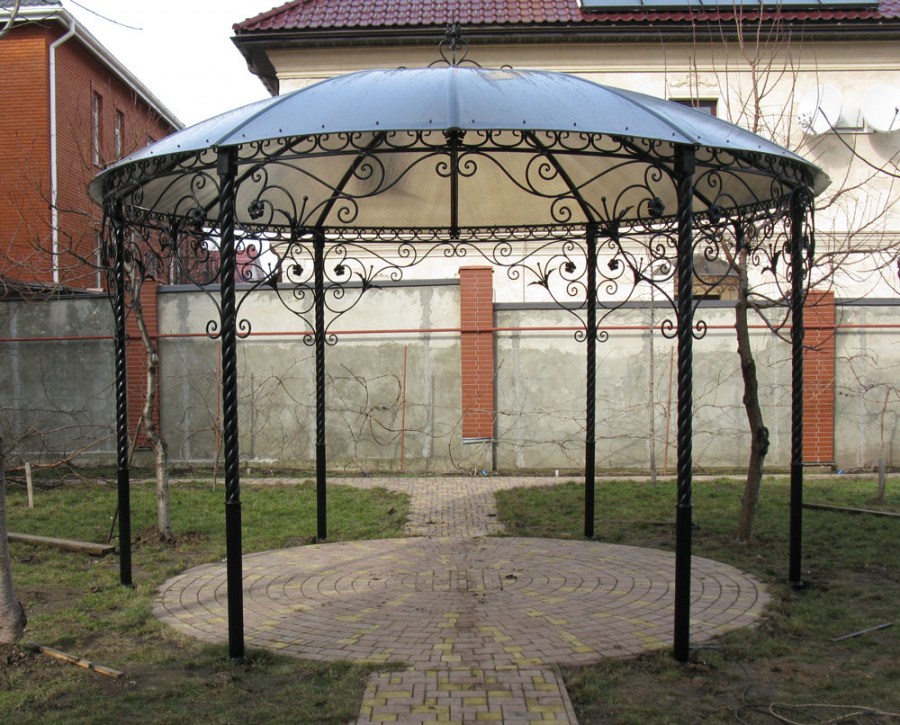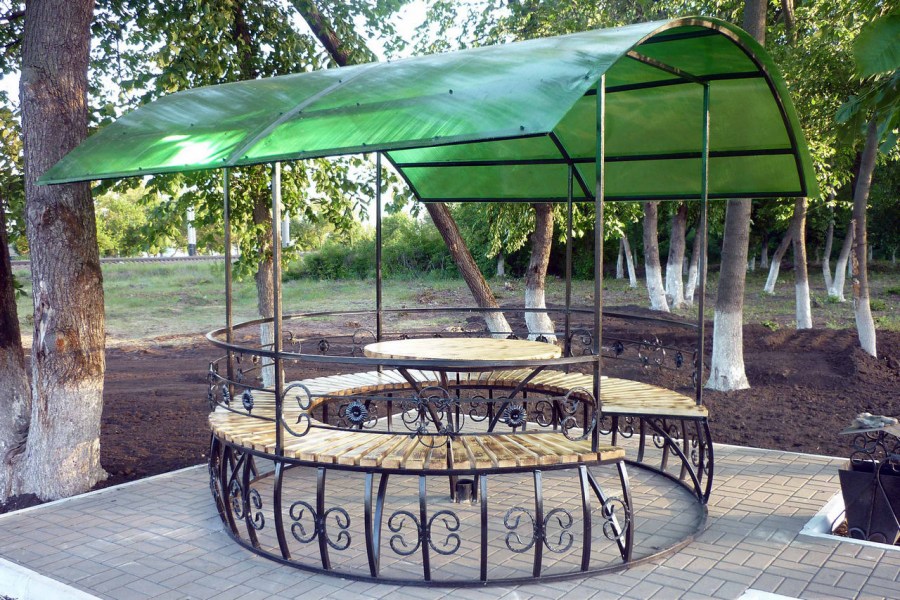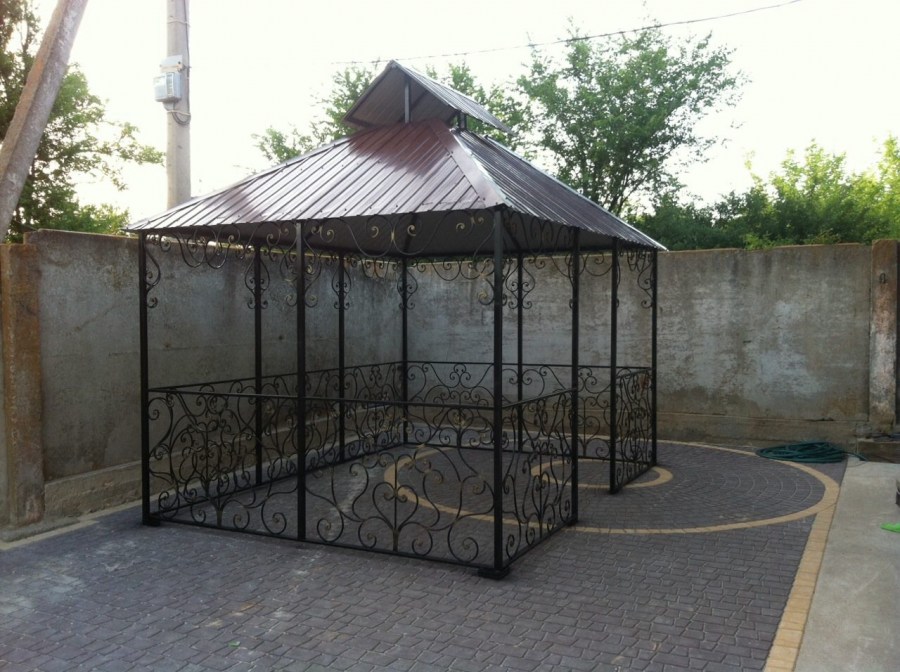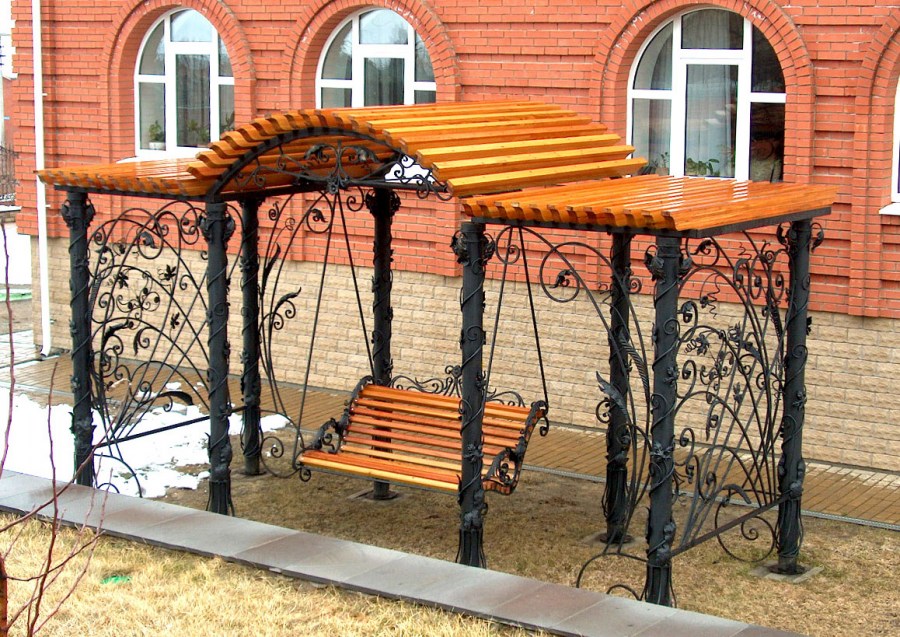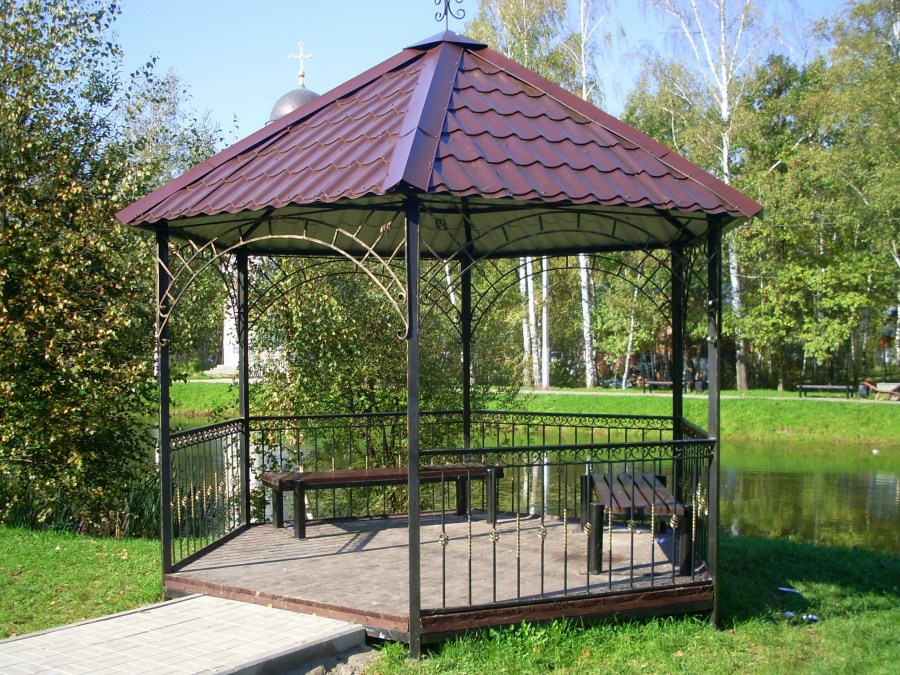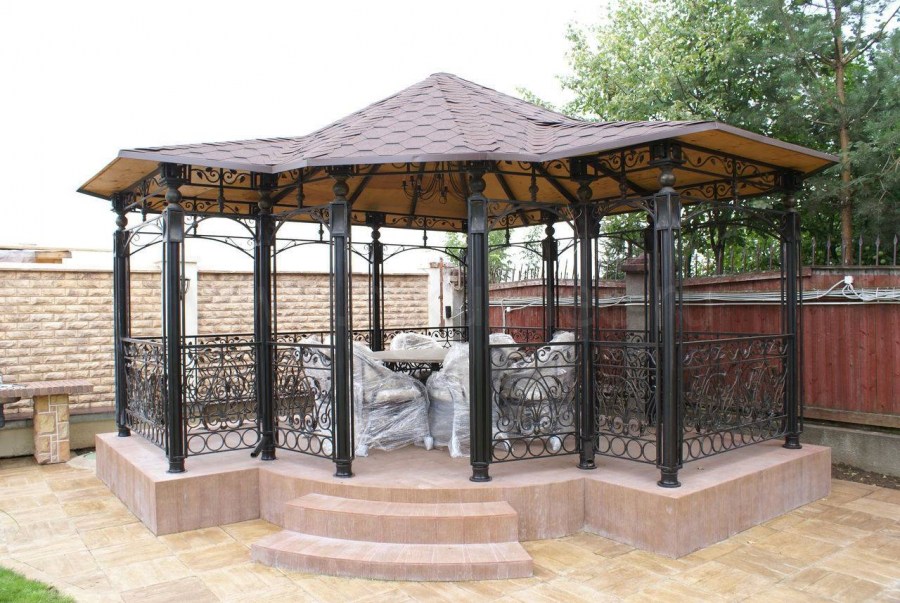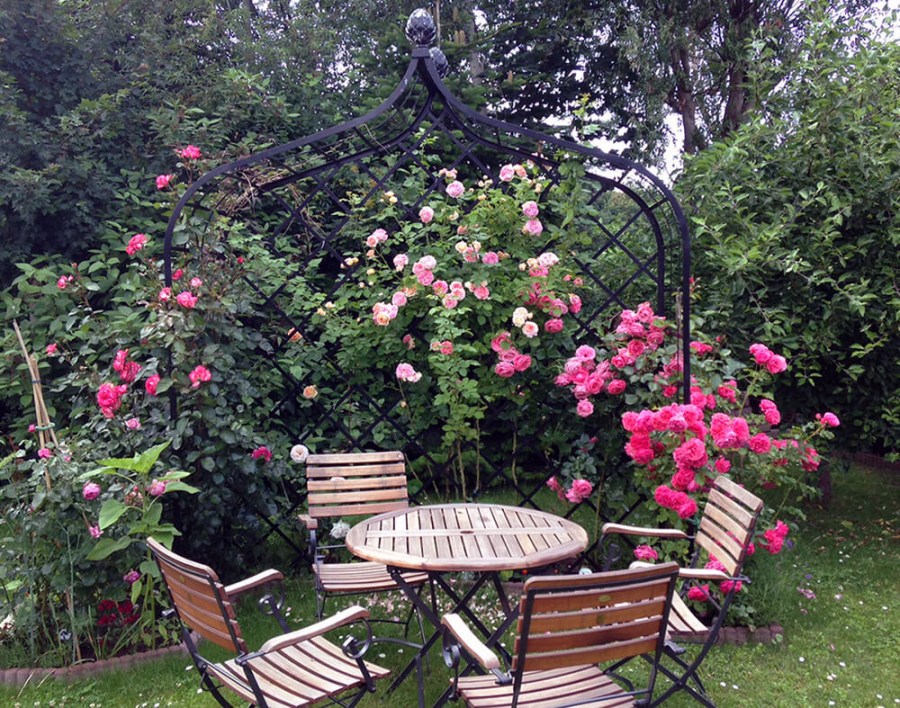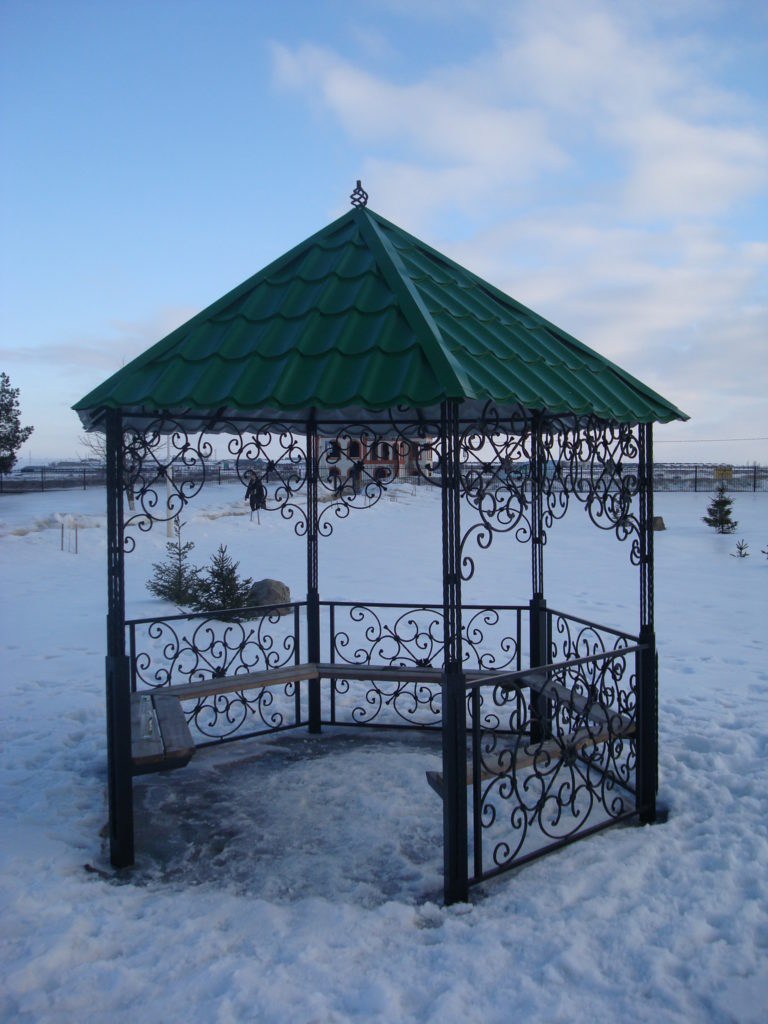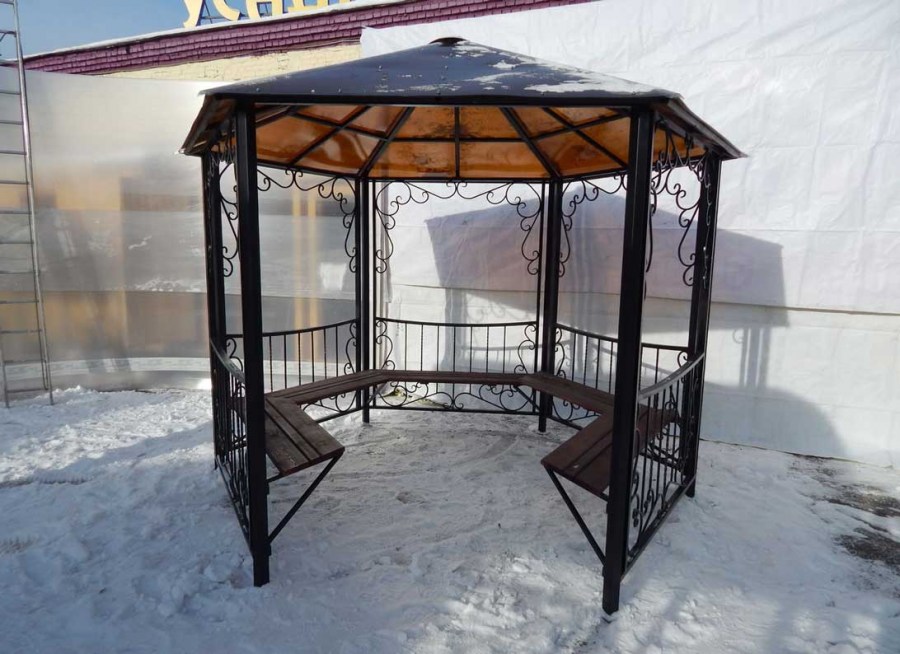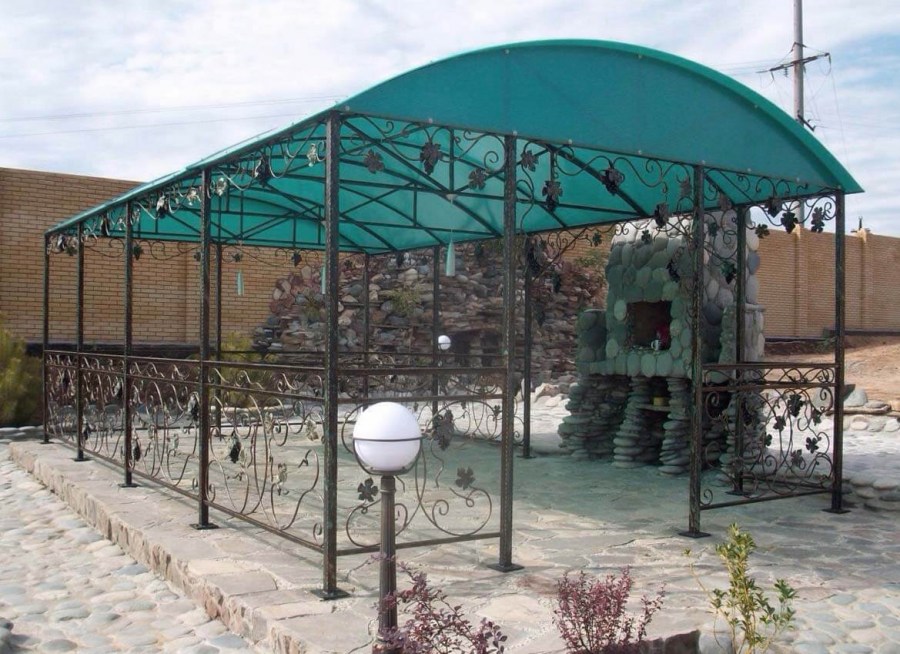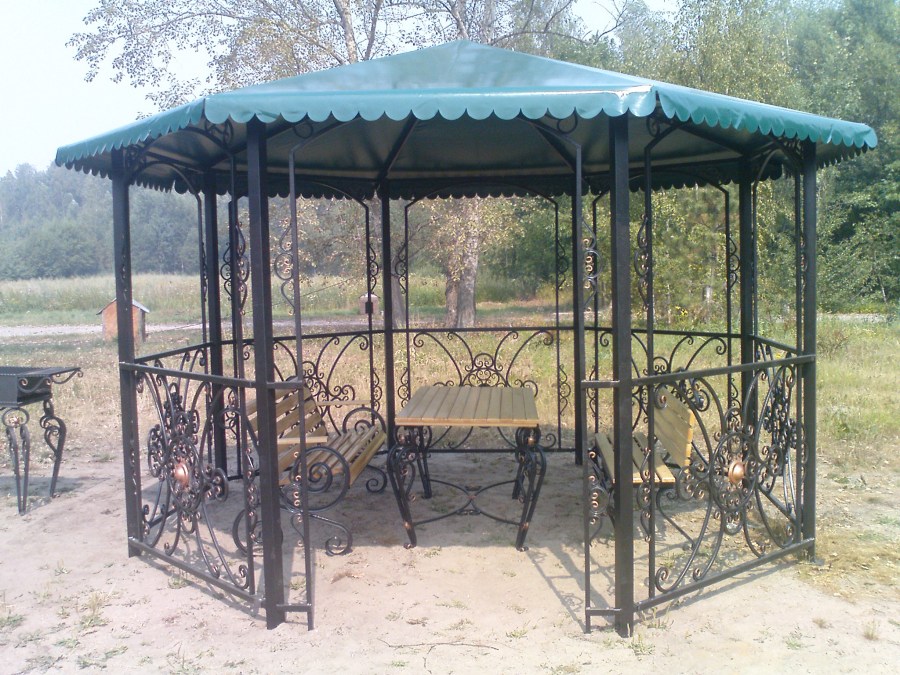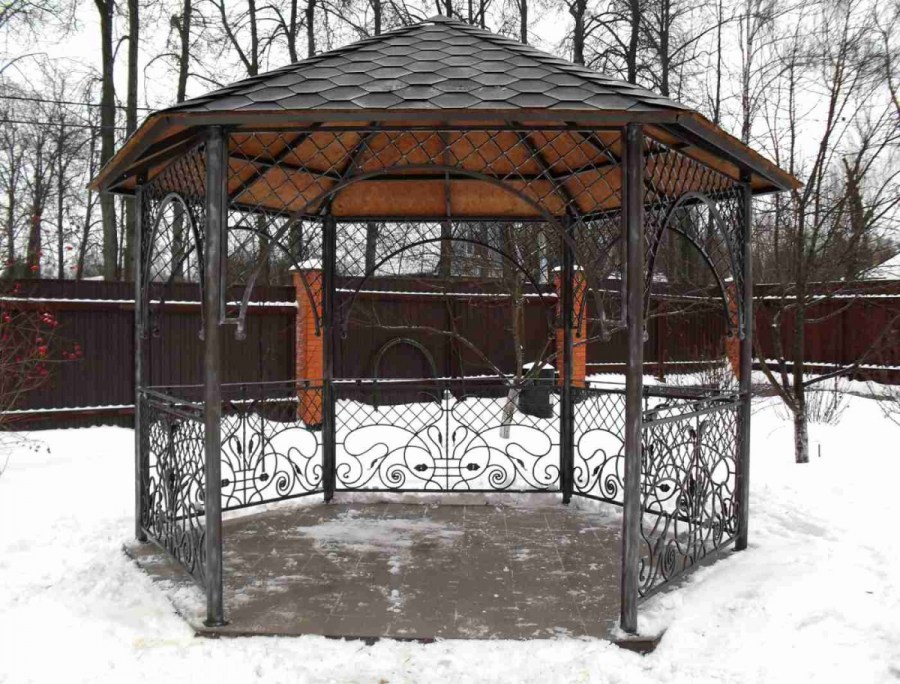 Flower pots: 65 photos of the most amazing design options
Bathhouse in the country: design, construction and insulation with your own hands (100 photos)
Water well: 70 photos and manual drilling
Join the discussion: